PEUGEOT SCOOTERS and EASYMONNERET, a partnership for a safety road !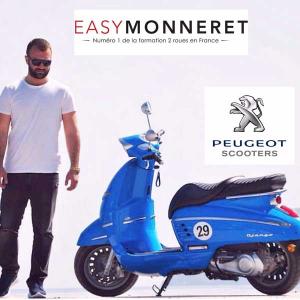 In 1971, Philippe MONNERET and his father set a 24 hour record on the handlebars of a Peugeot 104 moped on the ring of Montlhéry with 1256 km ( 780 miles) traveled. 45 years later, with Moto Journal, Philippe MONNERET renews the experience and achieves the same record on a vintage Peugeot 104!
In January 2017, Peugeot scooters and Philippe Monneret's school EASYMonneret France's premiere motorcycle training, are renewing this partnership to ensure the best learning conditions for young scooter riders in EASYMONNERET schools.
PEUGEOT SCOOTERS is pleased to accompany Philippe MONNERET in his passion for motorcycles and his constant concern for safety, comfort and practicality. EASYMONNERET schools are now equipped with PEUGEOT 50cc scooters with the KISBEE, STREETZONE, DJANGO, CITYSTAR and the new NOUVEAU PEUGEOT METROPOLIS 3 Metropolis 400 i scooters.
« Retour